Become a Design Engineer!
DEEP LEARNING
in SOLIDWORKS | CATIA
Top Companies Hiring :

Centres

Aminjikarai

Anna Nagar

Padi
Top 3 reasons to learn CAD Courses

Graduation is Not Enough
HR experts believe that graduates will now have to proficient at industry demand CAD software to get jobs. Since the curriculum is outdated and the number of graduates is huge, students must learn some specific skills with hands-on experience to stand out from the crowd.

Design role in High Demand
The number of new Design Engineer jobs advertised per month increased by 38% between June 2018 to June 2019. Job roles such as CAD Designer, FEA Engineer, Product Design Engineer & Project engineer are in high demand across leading companies.

Embark on a rewarding Career
Average salaries for fresher roles in Mechanical industry vary between 2-5 lacs per annum. Plus the YOY growth is higher in Product Design Engineer roles compared to generic roles in the industry like CAD Trainee, CAD Draftsmen and CAD Modeler.
Program Highlights

Classroom Format
30 sessions of software module based design engineer proficiency program including 8 sessions of GD&T Training ensures quick and well-rounded learning with 50% theory and 50% practical.
Certified Faculty & Industry Experts
The Internal Training Academy (ITA) brings together certified instructors who monitor the quality of training programs regularly. As only ITA certified instructors are allowed to lead a classroom, the CADD Centre team delivers nothing but the standardized training across the world. Regular seminars are conducted by having the Industry leaders and professionals from core companies to understand the latest industry trends and demands.

Industry Demand Curriculum
CADD Centre's Curriculum and Product Development (CPD) team strives to deliver the best courseware for the students. From beginner to advanced levels, every resource reflects highest clarity & standard.

Fees and Financial Assistance
Know about the variety of initiatives taken by the CADD Centre to provide financial assistance to students to support their skill development. We work in alliance with SBI to provide financial aid to students and help them pursue and acquire new skills. For more details please visit your nearest CADD Centre.

Placement Assistance
The certified professional of our Centres who has passed advanced skills examination can easily bag an excellent job in the market. Opportunities for fresher are available in many sectors dealing with product design, validation, and manufacturing.

Internationally Recognised Certification
On completion of a course at CADD Centre, a course completion certification is endowed with the name and course particulars of the student. The certification is accredited by NSDC helping student's skills get more recognition across the world. A Quick Response (QR) code is provided to prove the authenticity of the certification which can be verified online with the student identification number..
Student's Placed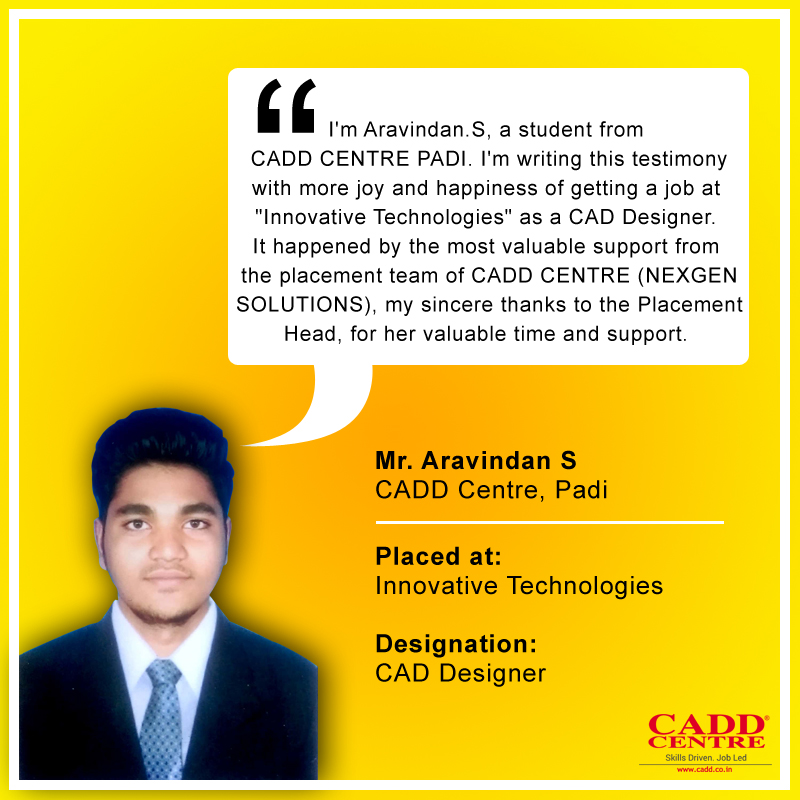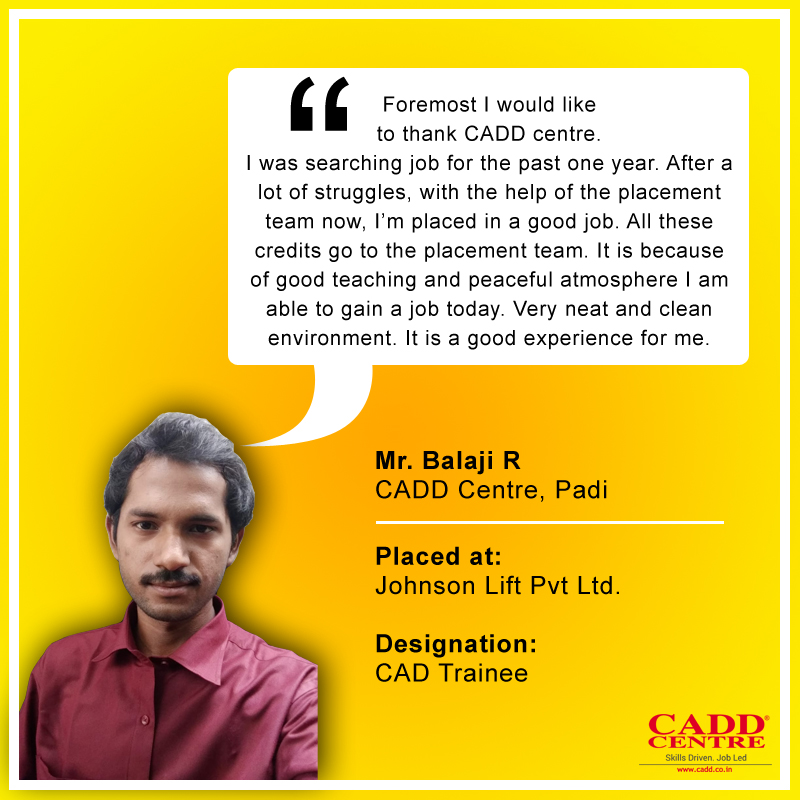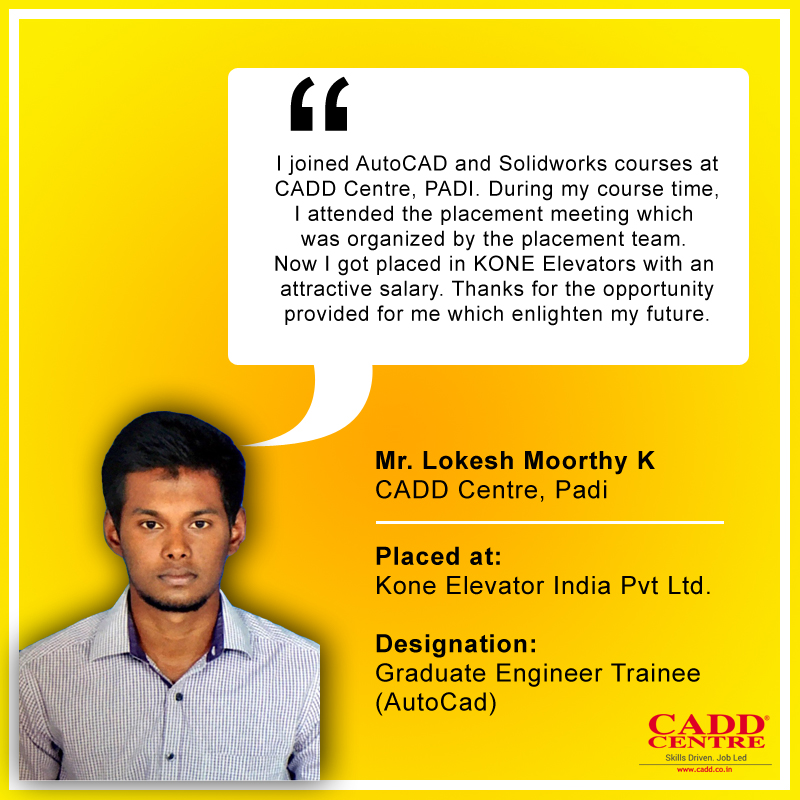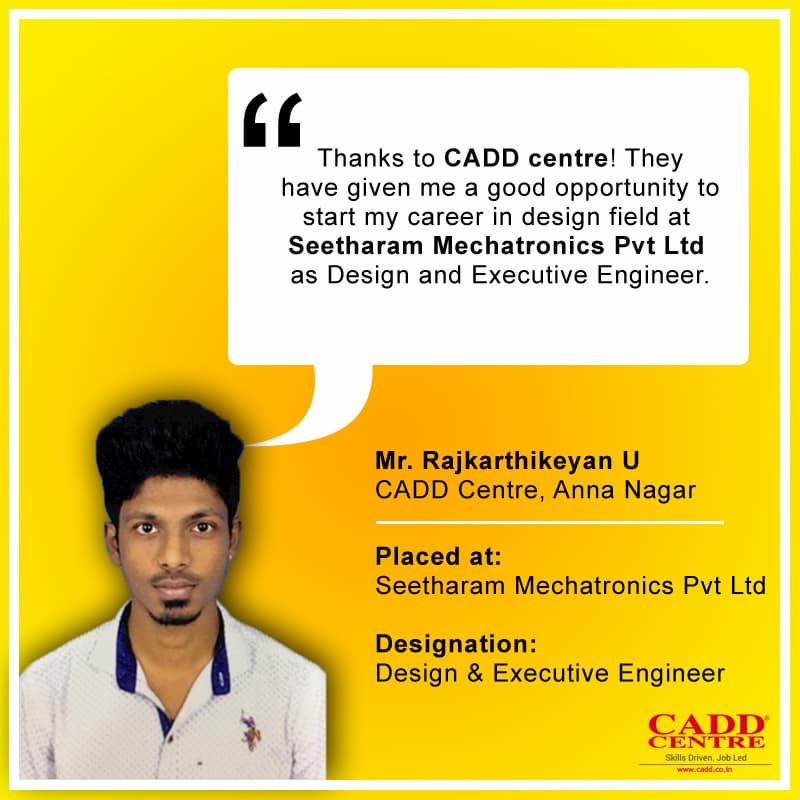 Internationally recognised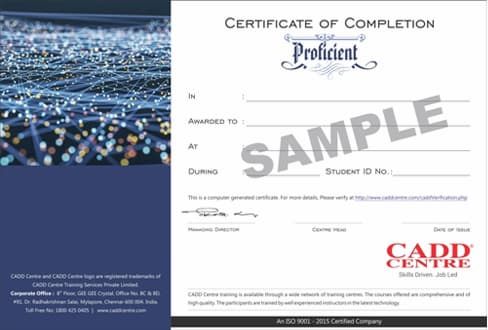 Dual Certification Program